Multi-Strike Poker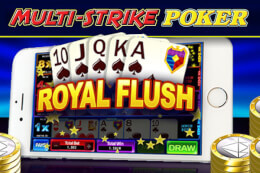 Put your poker abilities to the test in this high-end game that promises hours upon hours of enjoyment.
Play
Multi-Strike Poker is the poker game for audiences who are looking for a feature filled gameplay experience that they can get lost in for hours upon hours once they start playing. The game delivers all the tried and true fundamentals of the poker genre as well as an array of other exciting features to make for a memorable and worthwhile experience that you should not pass up on.

At the core of Multi-Strike Poker is, of course, the same trademark poker gameplay that we've come to love so much over the years but, what truly makes this game a standout experience, is the fact that it features a vast variety of poker variations such as Jacks or Better, Deuces Wild and special multi-play poker in which you'll be managing up to 25 different hands simultaneously. This is without a doubt one of the most feature-rich poker games that we've come across when it comes to gameplay.

Complementing Multi-Strike Poker's exceptional gameplay are vibrant and lively visuals that are a treat to look at. The cards themselves have sharp designs, the game is filled to the brim with smooth animations and the vibrant color scheme behind all of this makes for a truly immersive experience. Poker fanatics are highly recommended to give Multi-Strike Poker a shot.